ECSTASE, on vinyl, 900 numbered copies only

ON SALE NOW ( £30+ £5/£10 postage )

OUT OCT 15th !

10 songs written and produced by Anne Pigalle

© Anne Pigalle for A Pigallissimo Recording 

ECSTASE vinyl £30.00 + 5.00 postage or £30.00 + £10.00 postage outside of the UK

UK

Outside the UK
Sampler
Excerpt of 3 songs at the end of the radio show on Soho Radio
https://www.mixcloud.com/sohoradio/the-museum-of-soho-30092018/
                  ECSTASE
                                                     A filmic album
The odyssey of a woman through the underworld of Paris, London and Los Angeles
                           All songs written and produced by Anne Pigalle
The Truth 3.31
The Pleasureground 4.58
La Ballade du Late Night Soho 3.14
Black Dalhia 4.52
La Ronde 5.52
All My Love 4.15
Stay 4.24
A Man On Piccadilly 5.28
Fleur Du Mal 5.42
I Found You 5.26
                                                    Accomplices:
Aaron Cahill : all keyboards, piano, accordion and ukulele
Paul Robinson: all drums and percussions
Glen Matlock: bass guitar on The Pleasureground, Black Dalhia and Fleur du Mal,
Graham Silbiger: bass guitar on all other tracks
Cos Chapman : all guitars
Terry Edwards : sax
Marcello Patruno : trumpet
Jasmine Pender : electric cello
Jazzman John Clarke : voice raconteur on A Man on Piccadilly
Engineered by Dave Hunt
Mixed by Clive Goddard
Recorded at Pigallissimo time capsule- London 2018
Self portrait polaroids: Masquerade, Ecstase and Blé d'Or by Anne Pigalle, 2004.
Graphics: Malcom Garrett
LIVE LIVE LIVE London Live dates
Pre launch concert, October 5th at Helgi's, 10pm,  177 Mare Street London E8 3HR Free
October 11th at Trishia's , 57 Greek St, London W1D 3DX Soho
2 sets between 8.30 and 11pm
October/November/December 10 LAUNCHES in SOHO for the new album
October 27th Kingsley Hall Powis Road, E3 3HJ Poetry/music diverse tribute to Jazzman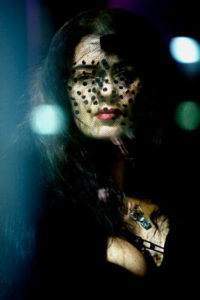 By Kevin Cummins ' The Queen Of Soho '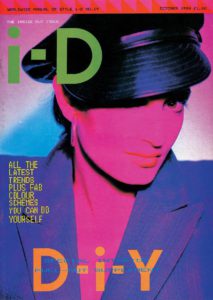 By Nick Knight , ID cover girl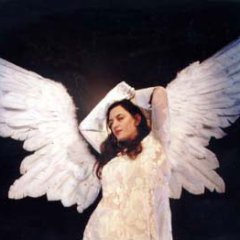 By Derek Ridgers at London studio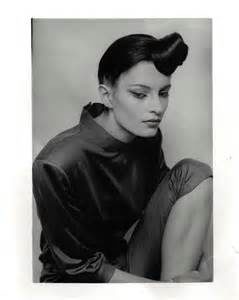 By Mario Testino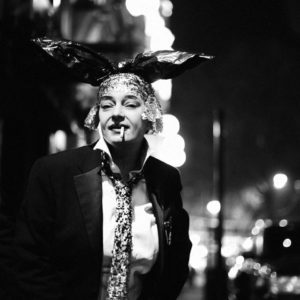 In Soho photo Etienne Gillifian
During the Cézanne exhibition at the national Portrait Gallery in November 2017, Anne Pigalle performed a set including poems dedicated to Cézanne to a full house
>>>>>>>>>>>>>>>>>>>>>>>>>>>>>>>>>>>>>>>>>>>>>>>>>>>>>>>>>>>
AND LONDON STUDIO VISITS AND SALES
By appointment only
email below or on social media,
paintings, photographs,clothes, objects, Cds from £50 to £££££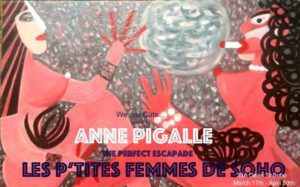 <<<<<<<<<<<<<<<<<<<<<<<<<<<<<<<<<<<<<<<
The Art Cd: MADAME SEX and l'Ame Erotique, the New version ! 26 tracks and artwork for £50 !
In spite of a generic art world and music industry , here comes authentic little paintings with a gem of a CD inside! ( includes postage ) – Signed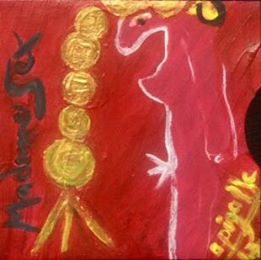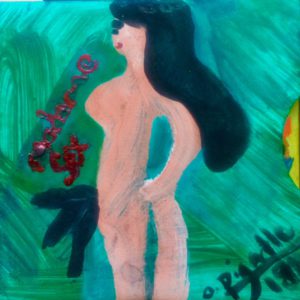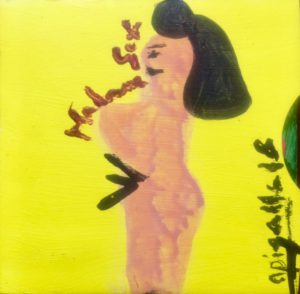 List of tracks : MADAME SEX & L' AME EROTIQUE
Queen Maria / Ace of Spade / Madame Sex / The Land of Plenty / Letter to an imaginary lover / Over The Top / Pigalle, London, Paris / E-rotica De Toi/ C***t Me In/ Saint Orgasm / X Amount / The Whole / La Femme Chat / Not Only The Flesh / Sulfur /Are You For Real? /You Give Me Asthma / 23 /La Pucelle / Nothing Happens…/Red Like Envy / A New Life / Le Poète Est Anglais/ The Garden of Eden / Voodoo Doll / Lunch
RADIOP ITW 21st June 11pm Resonance 104.4 fm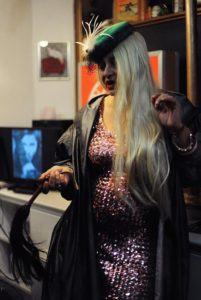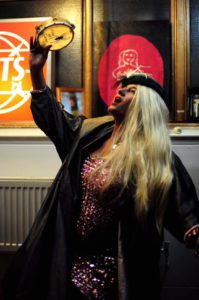 Performance April art exhibition Les Petites Femmes de Soho. Pics E. Gillifian
>>>>>>
The MADAME SEX ART CD EXPERIENCE.
MAKE A RENDEZ-VOUS WITH THE LAST CHANTEUSE FOR A PERSONAL PERFORMANCE AND AN ART CD. DIFFERENT LOCATIONS IN LONDON AND PARIS
Prenez votre rendez-vous.
                                                  Enquiries at pigallissimo@hotmail.com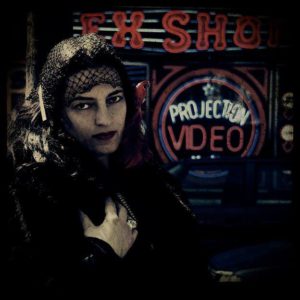 WHAT PEOPLE SAY:
"As Anne Pigalle strutted her stuff, the cameramen went into overdrive. She looked as though she just got up after a night on the absinthe and sung wonderfully"
– JOHN PEEL
'The legendary chanteuse"
– THE HUFFINGTON POST
"The music and fashion muse on a life less ordinary"
– DAZED AND CONFUSED
" Moody, magnificent, and with a stunning range, Anne Pigalle's shows transport you to a world of gorgeous sensuality and vanished times. Breathtakingly good."
– CHRIS SALEWICZ .
Miss Pigalle has performed in : UK, USA, France, Mexico. Japan, Afrika, Switzerland, Spain, Italy,, Austria, Germany.
Miss Pigalle has exhibited in UK, USA, France, Mexico.
Miss Pigalle has been written about in : Dazed and Confused, I-D Magazine, The Face, Blitz, The Sunday Times, The Independant, State Magazine, Best, City, The Times, Telerama, Detour, Metal ( Spain ),Tatler, Harpers&Queen, Hi Style ( Japan ), The Daily Mail, Smash Hits,Ms London, Metro, Spin Magazine (US), Metal Hurlant, Wiener, Elle, Zig Zag, Actuel, Nde, The Guardian. VSD, City Limits, the LA Reader, Unique, Lei, Vogue, France Soir, Marie Clair, Mojo, Cut, Premiere, The Quietus, Dangerous Minds, Honey, malody Maker, NME, Music Week, Undercurrent, Record Collector, The London Paper, Time Out, Photo, Stella, Esquire, Zoom, The Telegraph, Bizare, etc…
https://annepigalle.wordpress.com/
Instagram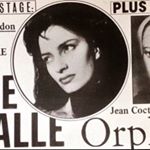 YouTube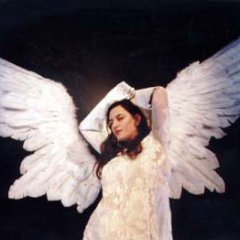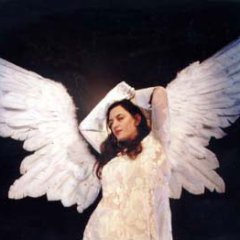 Live booking inquiries
http://annepigalle.wordpress.com/contact/