RADIOP ITW 21st June 11pm Resonance 104.4 fm
ART EVENT
7 women artists, 7 hours x 2 . What will happen ?
Anne Pigalle curates Les Madames at the Others
24/25th June 2017, 6 Manor Rd Stoke Newington London N16 Midday to 7pm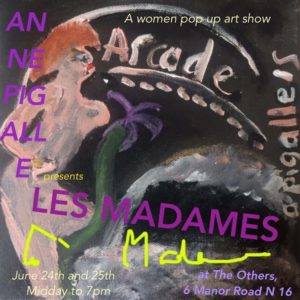 with Anne Pigalle, Claire Pestaille, Hanne Kempfor Beth Holmes, Bianca Bianco, Myriam Lengline, Marion Aqualina,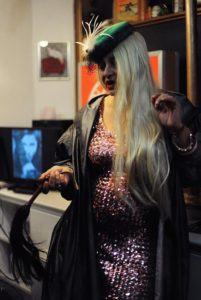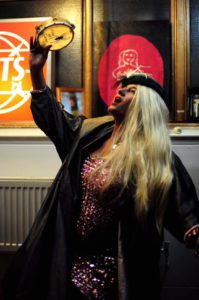 Performance April art exhibition Les Petites Femmes de Soho. Pics E. Gillifian
    Anne Pigalle in her studio in London  Photograph Derek Ridgers
>>>>>>
ART SHOW LONDON SOHO MARCH 17 2017 to APRIL 30th 2017
LES P'TITES FEMMES DE SOHO, THE PERFECT ESCAPADE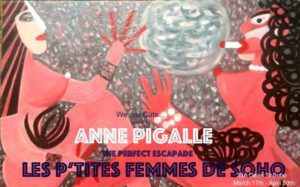 at We Are Cuts 33a Dean Street London W1D 4PP
On Soho Radio with Spizz Energi at 1 hour 12 minutes in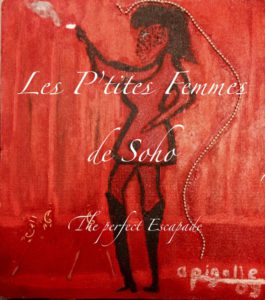 The MADAME SEX ART CD EXPERIENCE.
MAKE A RENDEZ-VOUS WITH THE LAST CHANTEUSE FOR A PERSONAL PERFORMANCE AND AN ART CD. DIFFERENT LOCATIONS IN LONDON AND PARIS
Prenez votre rendez-vous.
                                                  Enquiries at pigallissimo@hotmail.com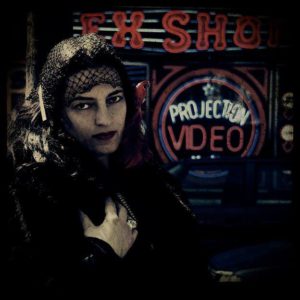 LONDON – PARIS – PIGALLE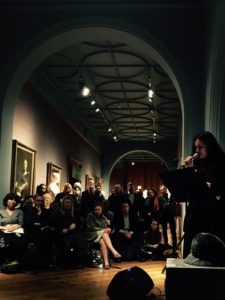 National Portrait Gallery London March 2016
ANNE PIGALLE is a multi media artist, and the original Last Chanteuse ( see Wikipedia )
MADAME SEX is the current ART CD, it' s only available on this website.
Another album is recorded and due.
Live: The next live performances will be secret, join the mailing lis at the bottom of the page.
WHAT PEOPLE SAY:
"As Anne Pigalle strutted her stuff, the cameramen went into overdrive. She looked as though she just got up after a night on the absinthe and sung wonderfully"
– JOHN PEEL
'The legendary chanteuse"
– THE HUFFINGTON POST
"The music and fashion muse on a life less ordinary"
– DAZED AND CONFUSED
" Moody, magnificent, and with a stunning range, Anne Pigalle's shows transport you to a world of gorgeous sensuality and vanished times. Breathtakingly good."
– CHRIS SALEWICZ .
Miss Pigalle has performed in : UK, USA, France, Mexico. Japan, Afrika, Switzerland, Spain, Italy,, Austria, Germany.
Miss Pigalle has exhibited in UK, USA, France, Mexico.
Miss Pigalle has been written about in : Dazed and Confused, I-D Magazine, The Face, Blitz, The Sunday Times, The Independant, State Magazine, Best, City, The Times, Telerama, Detour, Metal ( Spain ),Tatler, Harpers&Queen, Hi Style ( Japan ), The Daily Mail, Smash Hits,Ms London, Metro, Spin Magazine (US), Metal Hurlant, Wiener, Elle, Zig Zag, Actuel, Nde, The Guardian. VSD, City Limits, the LA Reader, Unique, Lei, Vogue, France Soir, Marie Clair, Mojo, Cut, Premiere, The Quietus, Dangerous Minds, Honey, malody Maker, NME, Music Week, Undercurrent, Record Collector, The London Paper, Time Out, Photo, Stella, Esquire, Zoom, The Telegraph, Bizare, etc…
https://annepigalle.wordpress.com/
The Art Cd: MADAME SEX and l'Ame Erotique
£50 and £60 each for the extended version (includes postage ), see how to purchase on this page below.
In spite of a generic art world and music industry , here comes authentic little paintings with a gem of a CD inside!
All signed ( front or back )
And more art HERE:
List of tracks : MADAME SEX ART CD
Queen Maria / Ace of Spade / Madame Sex / The Land of Plenty / Letter to an imaginary lover / Over The Top / Pigalle, London, Paris / E-rotica De Toi/ C***t Me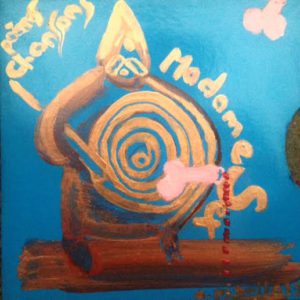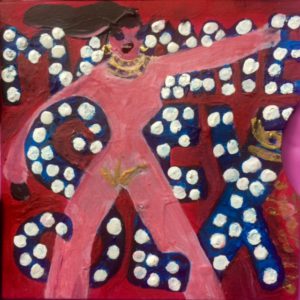 List of tracks : MADAME SEX & L' AME EROTIQUE
Queen Maria / Ace of Spade / Madame Sex / The Land of Plenty / Letter to an imaginary lover / Over The Top / Pigalle, London, Paris / E-rotica De Toi/ C***t Me In/ Saint Orgasm / X Amount / The Whole / La Femme Chat / Not Only The Flesh / Sulfur /Are You For Real? /You Give Me Asthma / 23 /La Pucelle / Nothing Happens…/Red Like Envy / A New Life / Le Poète Est Anglais/ The Garden of Eden / Voodoo Doll / Lunch
Instagram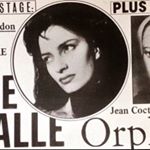 YouTube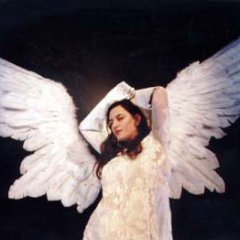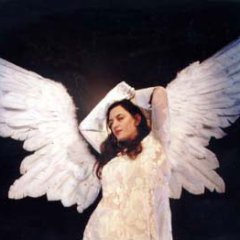 Live booking inquiries
http://annepigalle.wordpress.com/contact/