HAVE YOUR VERY OWN PORTRAIT DONE ! !!! PORTRAITS by Moi, the Artist, available:
Offer different format , different prices, and a one hour sketch on internet with conversation . Can also be done from photograph.
Enquire on the form available on the first page of the site or on social media .
*************************************************************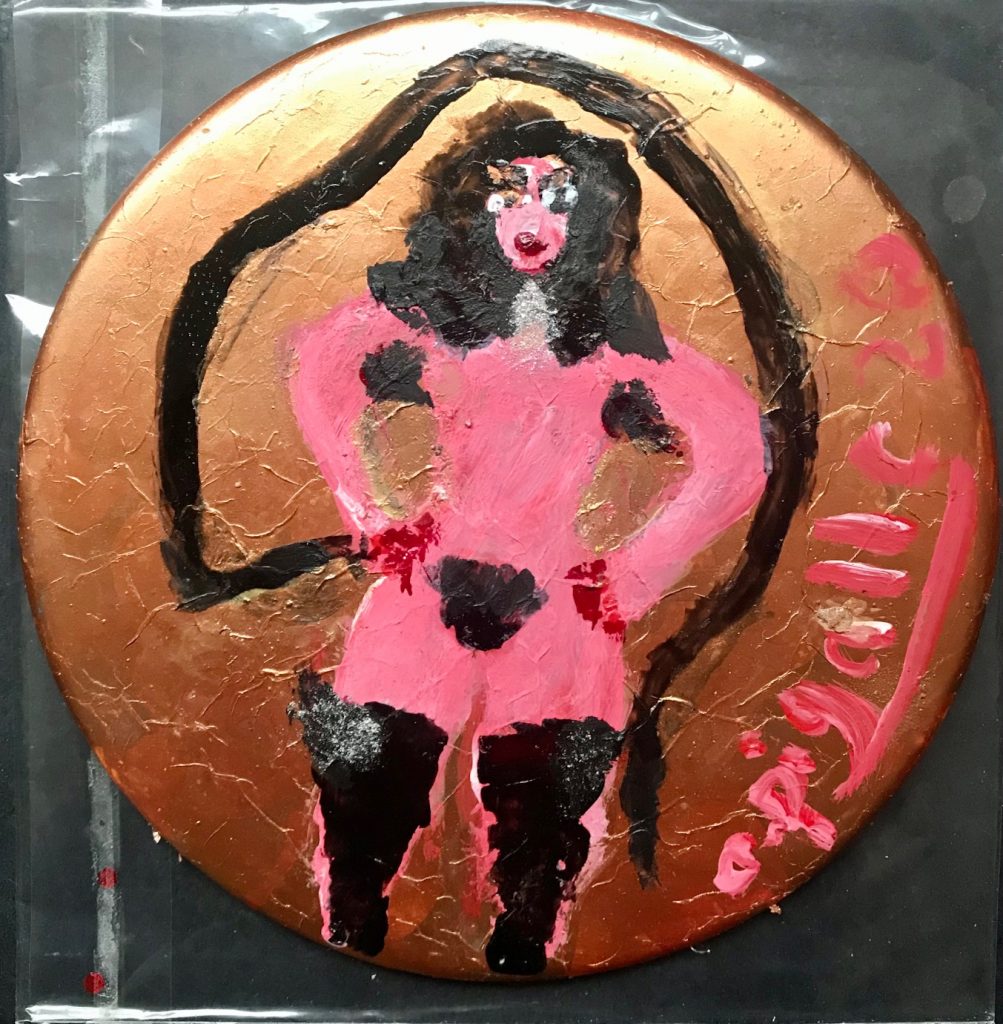 MASKS:
Anne Pigalle Celebrates the Soho of Dreams and Desires – Les P'tites Femmes de Soho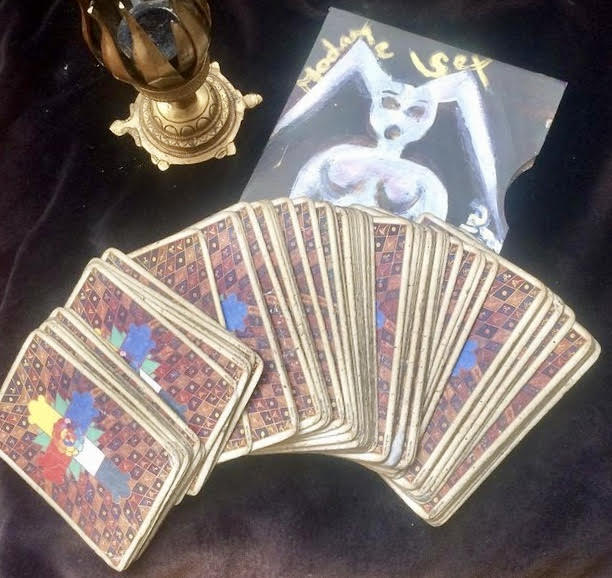 *****************************************************************
ORIGINAL collectable vintage POLAROIDS, on discontinued polaroid film , painted and signed by Anne, are like sexual ex-votos ( enquire )..
Painted art clothes, enquire…
CONTACT all enquiries: http://annepigalle.wordpress.com/contact/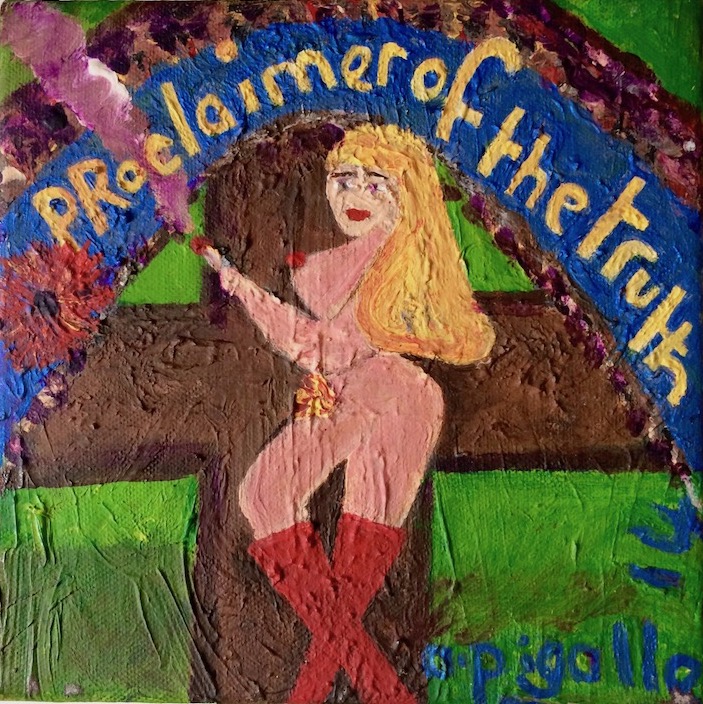 ART choose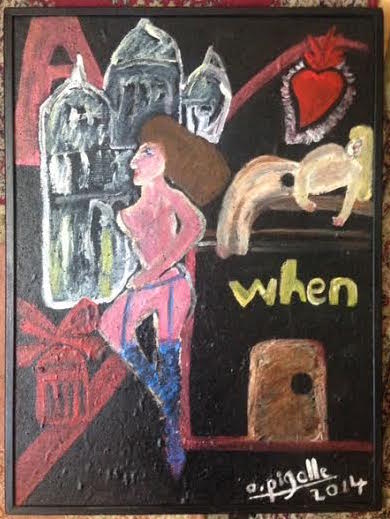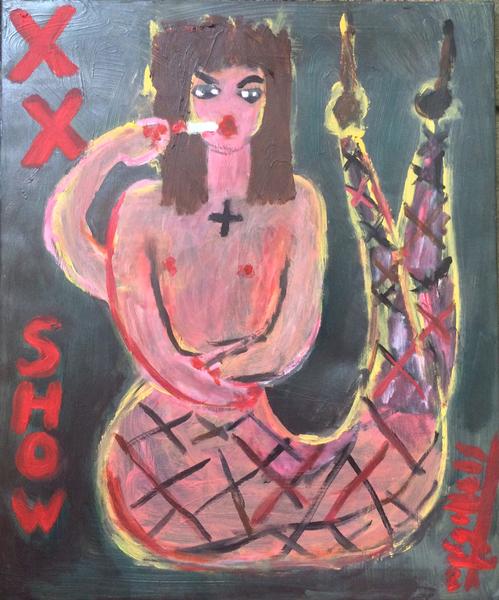 All material is copyright © Anne Pigalle 2003-2021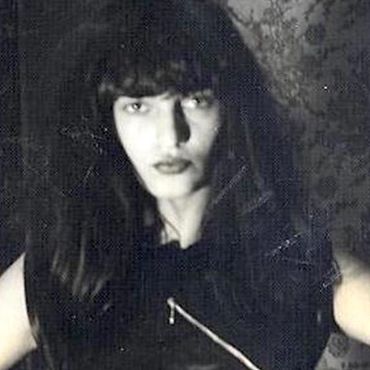 Young Pigalle
Anne Pigalle psychogeography report: The young Parisian punk chanteuse Anne Pigalle, normally more associated with Paris or Soho but also has a Notting Hill side to her psychogeographical profile. She was on the ZTT label (of Frankie Goes to Hollywood 'Relax' fame) when it was based at the former Island studios on Basing Street (where Bob Marley and the Wailers recorded 'Exodus', etc – sadly now converted into luxury flats), and appeared at the Electric Cinema on Portobello Road in 1985, as part of an Electric Screen music-film double-bill with Jean Cocteau's 'Orphee'. She reappeared last year in Powis Square to commemorate the 50th anniversary of the 'Performance' film shoot, after working with the film director Donald Cammell in the States on her 'Spirit of Ecstasy' film treatment.
Anne Pigalle's 'Ecstase' film/multi-media event, which came out of her collaboration with Cammell, won the art award at this year's Portobello Film Festival. The film visual umbrella for her new album 'Ecstase' was screened with 'The Soho Connection', co-presented by Jenny Runacre (who plays Elizabeth I in Derek Jarman's 'Jubilee'), under the Westway at Westbank. The film features Glen Matlock of the Sex Pistols, with whom she has also collaborated, Ray Gange, the star of the Clash film 'Rude Boy', and Leslie Hardcastle of the Soho Society. Jean Cocteau's 'Orphee' film is another influence on 'Performance', in which Jean Marais as Orpheus goes into the post-war Paris underground-underworld, giving her maximum Notting Hill street credibility points.
Anne has resided at many addresses in the area, including two on All Saints Road when it was the frontline of 80s pop culture, Trellick Tower and St Quintin Avenue in North Kensington, when she was working with Michael Nyman on his Channel 4 opera 'The Kiss'. She did her first demo with the Parisian electro-punk group Metal Urbain, who's 'Paris Maquis' single was the first released on the Rough Trade label – then at 202 Kensington Park Road – with an upside down Eiffel Tower sleeve. Her fellow Paris punks the Lous played at Acklam Hall and the French punk promoter Mark Zermati introduced her to Mick Jones of the Clash, who recommended her to Paul Morley of the ZTT label (named after the Futurist sound poem 'Zang Tumb Tumb'), as he and Trevor Horn succeeded Chris Blackwell's Island on Basing Street with Frankie Goes to Hollywood, Art of Noise, Grace Jones and Propaganda in the mid-80s.
She has appeared at most local venues at one time or another, before and after her stint in LA in the 90s influencing Lana Del Ray, including the Mangrove when it was Ma's Cafe on All Saints Road, the Mau Mau Bar on Portobello recently, and she came up with the plan for her renowned Cafe de Paris night in a squat on Ladbroke Grove. 'I was quite active in Notting Hill', as she puts it, 'I played at the Electric as a double bill with Cocteau's 'Orphee', the occasional 192 (Kensington Park Road music business/media bar) outing when it was paid by ZTT. Of course I hung out in Notting Hill in the punk days too and went to the original Rough Trade. There was a lunch at 192 with Peter Hammil, who was going to produce the second album, but I didn't go for it, even though he was very nice. The ZTT situation was too constraining.'
Notting Hill has always had close French connections: After Lord Holland supported France in the Napoleonic wars, Louis Lucien Bonaparte, Napoleon's nephew, lived on Westbourne Grove, and his wife Clemence was living in Powis Square in the early 20th century when GK Chesterton's 'Napoleon of Notting Hill' novel was published. George Orwell set out from Portobello Road to go 'Down and Out in Paris and London', Ford Madox Ford, Ezra Pound and co went to Paris from Campden Hill, and the Situationist Alex Trocchi came back from Paris to found the 60s counter culture in Notting Hill. At the time of the Paris May 1968 student revolution, the opening of the Powis Square gardens by the community was the London equivalent and Michele Breton represented France in 'Performance'. Powis Square was ordained with revolutionary graffiti before the Parisian May '68 events.
Anne rises above the French stereotyping she received in the music press to proclaim from the barricade: 'I always complain about ZTT and I always complain about stupid press. When they went on about being French, it was on the level of onions and baguette and stripy t-shirts and Johnny Halliday. Not all French music culture is great but in the end our good stuff is really what was the most influential, from the first cabaret Le Chat Noir in 1881 to Duchamp's safety pin. All the Dadaism and Pataphysics came directly from the original cabaret started by Rodolph de Salis – I used to go out with one of his descendants – that's why Malcolm McLaren did a film about cabaret influences in Paris before he died.' Never mind the Jackson Pollocks. Vive la resistance. TOM VAGUE